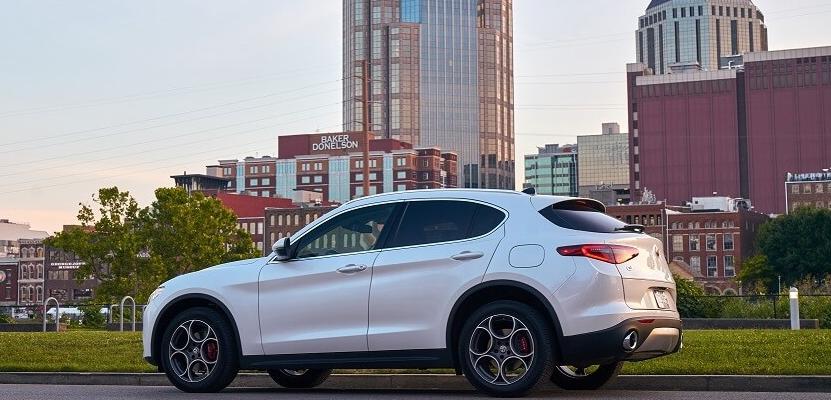 2018 Alfa Romeo Stelvio
Cruise through Chicago, Illinois in style with a brand new Italian-designed Alfa Romeo Stelvio, a luxury SUV that expertly combines sportiness and elegance. With an 8-speed automatic transmission, adaptive-shift technology, and an all-aluminum turbocharged engine, this mid-size SUV was designed to offer an exciting driving experience like no other. Thrill seekers will enjoy the Alfa Romeo Stelvio's quick power and superior handling. Outshining its competition, the Alfa Romeo Stelvio comes standard with many features including navigation, remote engine start, and parking assistance.
2018 Audi Q5
The Audi Q5 gives the Alfa Romeo Stelvio a run for its money, with its signature German design and engineering. You'll find more cargo space in the Audi Q5 than the Alfa Romeo Stelvio, however, this compromises passenger space in the backseat. In their latest model, Audi offers a handful of technology features, but you'll have to upgrade the trim level or purchase additional packages to reap these benefits.
Feature Comparison: Alfa Romeo Stelvio & Audi Q5
Specs*
Alfa Romeo Stelvio
Audi Q5
Horsepower
280
252
Torque
306
273
Top Speed
144
128
Highway MPG
28
27
MSRP
$41,995
$41,500
How Do They Compare?
Main Differentiator
For relatively the same price, the Alfa Romeo Stelvio provides a more powerful and exciting drive than the Audi Q5. With more horsepower, you can explore Chicago, IL, and its surrounding areas, as if you were driving through the Italian countryside. Parking in the city is a breeze with parking assistance that comes standard on the Alfa Romeo Stelvio, which the Audi Q5 doesn't offer. Unlike the primarily front-wheel drive Audi Q5, the Alfa Romeo Stelvio was designed to favor rear-wheel drive and sense when to engage all-wheel drive, creating a sports car-like driving experience, while handing inclement weather easily.
Learn More About Us
Zeigler Alfa Romeo is your premier Alfa Romeo dealership near Chicago, IL. Our friendly and experienced team will help you find the Alfa Romeo vehicle of your dreams. Call or visit us today to learn more about the new Alfa Romeo Stelvio and take one for an unforgettable test drive. We're happy to answer any of your questions and look forward to meeting you!