Who Owns Alfa Romeo?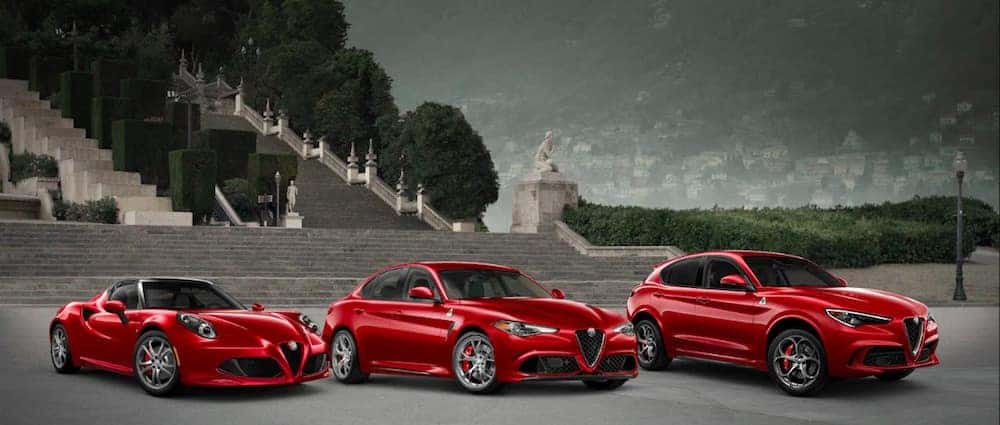 Who owns Alfa Romeo? FCA, or Fiat-Chrysler Automobiles, has owned Alfa Romeo since 2007. Although it's been more than 10 years since FCA acquired Alfa Romeo, the automaker still maintains its Italian flair within its lineup of vehicles. Automobiles like the 4C Spider and Giulia showcase just what Alfa Romeo is all about. Since Fiat-Chrysler Automobiles is one the world's biggest automotive manufacturers, their Alfa Romeo takeover expanded the lineup to include sleek, luxurious vehicles that are a thrilling drive around Barrington.
The History of Alfa Romeo
When Cavalier Ugo Stella decided to purchase shares of the Anonima Lombarda Fabbrica Automobili in 1910, Alfa Romeo was born. The company's acronym comes from its original name above and later was used as an integral part of the name (A.L.F.A).
Between 1932 and 1986, a state holding company in Italy owned Alfa. During these years, Alfa Romeo became part of the very popular Fiat group. This merger took another step in the right direction in February of 2007. Alfa Romeo became Alfa Romeo Automobiles S.p.A, which was adopted as a subsidiary of Fiat. Fiat then was known as Fiat-Chrysler Automobiles (FCA), and after 2007, was responsible for making Alfa Romeo vehicles. Now, Alfa is known as an extension of FCA and has been for more than a decade.
The Alfa Romeo Distinction
FCA acquiring Alfa Romeo didn't mean that it would diminish the quality or reliability of its Italian roots. On the contrary. Drivers from Mount Prospect to Itasca have witnessed many amazing automotive achievements like the introduction and upgrades to the vehicle lineup, including the Alfa Romeo Giulia Quadrifoglio in 2017 and the Alfa Romeo Stelvio in 2018. Both of these astounding vehicles deliver the performance expected of an exotic Italian vehicle, and the Alfa Romeo Premium Care plan preserves that performance years after the vehicles have been purchased.
Celebrate the History of Alfa Romeo at Zeigler Alfa Romeo of Schaumburg
Whether you're interested in one of our Italian automobiles or want to learn more about the Alfa Romeo logo, Zeigler Alfa Romeo of Schaumburg is excited to share more of Alfa's history with you. Contact us today or visit our showroom in Schaumburg to learn more about this automaker and buy or lease a new vehicle. Whether you're interested in purchasing or leasing an Alfa Romeo, our team of finance experts will walk you through the process.
More from Zeigler Alfa Romeo of Schaumburg
Have you always dreamed about having a premium vehicle of your very own? If so, you can make your dream come true by visiting our Alpha Romeo dealership and looking through our inventory of the latest Alfa Romeo cars. Once you buy or lease a luxury car, it's important to know how to maintain your…

In today's connected society, it should come as no surprise that many consumers read online reviews before they make a purchase. It also shouldn't be surprising that most people put a lot of faith in the reviews they read on the internet. While those facts intimidate some businesses, they invigorate the team at our Schaumburg,…

When you visit our Schaumburg, IL Alfa Romeo dealership, you're in for a treat. That's because our convenient location is where you can check out the latest Alfa Romeo vehicles. If you want an Alfa Romeo SUV, you'll find yourself irresistibly drawn toward the 2020 Alfa Romeo Stelvio.